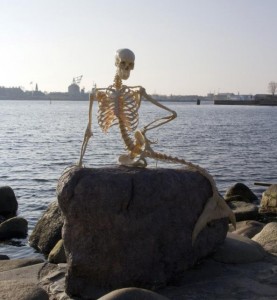 The little mermaid from Copenhagen replaced by a skelet on the 1st of April 2010.
Source: http://bit.ly/a4NTnI Google News

En banlieue parisienne, un duo d'artistes tente de sensibiliser l'opinion au problème des déchets en colorisant les fumées d'un incinérateur. Un projet qui suscite une polémique chez les écologistes, les élus et les industriels…
Source: http://bit.ly/chA89Y (hehe.org2.free.fr)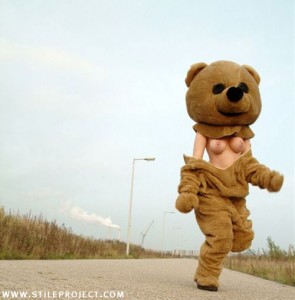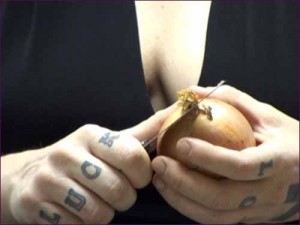 Gros plan sur des mains de femme tatouées de ces deux mots : « chance » et « amour ». Elles épluchent un oignon et lorsque la chair affleure, la caméra remonte vers les épaules et le visage. Par un mouvement circulaire, elle épluche la femme et s'arrête sur son visage où perlent quelques larmes.
Un instant, on croit saisir la douleur, le désespoir dans ces yeux. Au-delà de l'explication logique, ces pleurs déclenchent un vrai sentiment de tristesse et de mélancolie. Pourtant, l'oignon dégarni nous fait douter de nos émotions.
Conflit d'interprétation et brouillage des messages et des signes visuels sont au cœur du travail de Cécile Paris. Elle fait des images pour déclencher les interrogations, questionner les repères. Ses vidéos reposent sur des dispositifs très simples, centrés sur une personne qui fera naître, au fil de l'action, une histoire dans la tête du spectateur. Ces narrations-interprétations sont multiples, ouvertes à l'imaginaire.
(Par Marie-Jeanne Caprasse – Paris-art.com)